Hotel near Natural Bridge Caverns
Everything really is bigger in Texas, including our caves! Natural Bridge Caverns is the largest collection of commercial caves in Texas and one of the most cherished natural attractions in the state. Our hotel near Natural Bridge Caverns is only a 30-minute drive from this remarkable attraction, which has plenty of activities and tours for the whole family!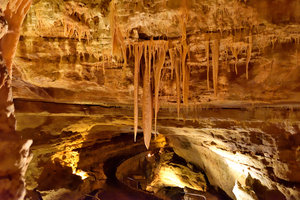 Non-Stop Adventures, Above and Below!
The Natural Bridge Caverns has so much more to offer than just walking around through its incredible labyrinth of underground chambers and vast formations. There are plenty of different activities for both the thrill-seeker and explorers alike, within the winding underground paths and above ground! Here are some popular attractions that are a must-do to make the most of your visit at Natural Bridge Caverns: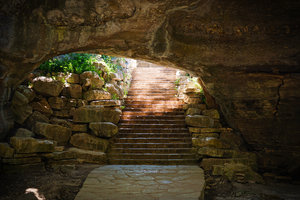 Combo Tour – Discover all the intricate formations and huge underground chambers by doing both the Discovery and Hidden Passages Tour!
Gem & Fossil Mining – Put on your miner caps and head on over to Discovery Village Mining Co., where you can pan for gems, fossils, and other treasures!
Twisted Trails – An outdoor adventure course that take thrills to a whole new level! This new six-story high attraction features four levels of exciting challenges, including stepping stones, a weave walk, a rolling log, and more.
Dine & Shop – All the adventures, above and below ground, can certainly work up an appetite! Take a break and do some shopping at Discovery Village or grab some food at the Cavern Café.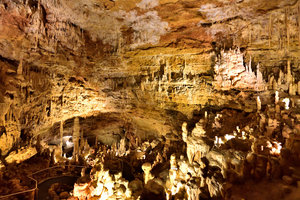 Visitor Tips
Bring out your inner explorer when you book your stay at our hotel by Natural Bridge Caverns, and use these helpful tips before you get your cavern trekking on!
Buy Your Tickets Online – Plan ahead and save by purchasing your tickets in advance online—the earlier you buy, the more you save!
Dress for The Humidity – The caves can reach temperatures up to 70°F (21°C), so make sure to bring light outdoor clothing and comfortable, non-slip shoes!
Bring a Camera – The expansive cavern contains stunning beauty at every corner, but with that also comes a lot of low light and shadows in the dark caves. If your phone doesn't quite do the trick, bring a DSLR camera, if possible, to better capture the caverns.
Stay Hydrated – Bring a bottle of water to help you cool down and keep well-hydrated as you hike through the cavern heat!
Immerse yourself into all sorts of cavern adventures and book your stay at our hotel near Natural Bridge Caverns, Texas, today!